FALSE BELIEF #1: "I should trust others with my money"
Do you have any idea what the cost of active money management is? If your answer is no, don't worry! You are like most people out there. The truth is, the expenses surrounding mutual funds and active money management are intentionally set up to be complex. The goal is to use trade lingo the average person does not understand. Money managers work hard to convince you that they are the only ones that can do what they do. The truth is, they aren't.
According to a Forbes Article, the average cost of a taxable investment account is 4.17% each year. While that may not sound like a lot, I am about to convince you otherwise. If you had $100,000 in principal invested over 25 years in a portfolio of index funds earning an annualized return of 8%, minus the average expense ratio of 0.25%, you would have a portfolio worth $646,296.75! Now, if you had the same annualized return of 8% in an actively managed portfolio, minus the average total cost of 4.17%, you would have a portfolio worth $255,900.63!
That 4.17% just cost you $390,396.12 over 25 years. This is what could happen when you trust others with your money.
FALSE BELIEF #2: "I should only buy stocks when markets are up"
Actually, that is one of the worst times to invest in stocks. If you wanted to buy a Lamborghini, and you went to the dealer and found out it was 50% off, you would write a check faster than anyone could say "nice ride." Nonetheless, the point I am trying to make is that stocks are the only thing people are afraid to buy on sale.
When anyone asks me for advice about investing, I simply reply with "buy low, sell high." Most people think I am being sarcastic, but this is the greatest piece of advice anyone could give you. In the words of Warren Buffett; "it is wise to be greedy when others are fearful, and fearful when others are greedy." Most people follow the market. As a result, they buy whatever stock is way up and sell it when it goes way down.
A Lemming is a small rodent found in the Arctic Tundra. You may be asking yourself, why am I talking about a small animal that resembles a wild Guinea Pig? Due to their migratory habits, these animals run in a tight pack. They have been known to run off cliffs in massive groups, unintentionally committing suicide. This is what will happen if you follow the herd by following the market.
FALSE BELIEF #3: "You can save your way to financial freedom"

This was true! For the older generation. Back in the 1980's, you could save your way to financial freedom. In fact, in July of 1984, you could get a 5 year certificate of deposit from a bank and earn a 12% return. Today, that same investment vehicle pays on average 0.91% in interest.
What worked for your parents will not work for you. The older generation also had a wonderful thing known as a pension. These were regular payments for the entire duration of your retirement until you were pushing up the daisies. Imagine that... A guaranteed source of income until your time ends.
The pension was replaced by the 401(k), a retirement savings plan that has proven to be a miserable failure for most. Nearly half of all working age families have no money in their retirement accounts. For a 401(k) retirement plan to work, you need to educate the masses on how to plan for retirement. I graduated high school a few years ago. I am ashamed to tell you that I never once heard about a 401(k) in school, and up until a few years ago I thought it meant $401,000. I did, however, learn how to cite a source in correct MLA format.
If members of the pension-era generation tell you how to plan for retirement, politely tell them that everything has changed.
FALSE BELIEF #4: "I can rely on social security retirement income"
No, you can't. The average social security benefit is $1,341 per month. The average annual household cost of housing, utilities, food and transportation alone is $32,754. Even if you and your spouse earn social security income, you will fall short by $570 a year before you spend a penny on entertainment and discretionary expenses.
There is a bigger problem, however. According to the 2016 OASDI Trustees Report, the social security is slated to run out of its $2.8 trillion cash reserve by the year 2034. The baby boomers are overwhelming the social security retirement system. Between 2010 and 2030, more than 70 million baby boomers will enter retirement and begin collecting social security. On top of this, thanks to things like automation and outsourcing, retirees are significantly outpacing new workers. Payroll tax supports the system, and there are fewer and fewer workers supporting this system each year.
On August 14th 1935, the Social Security Administration was founded. This was enacted by President Roosevelt to protect the general welfare after many were hit hard by the Great Depression. In 1935 the average life expectancy was 61 years. Today, a man that reaches the age of 65 can expect to live past 84. A woman that reaches the age of 65 can expect to live past 86.
The social security system turned 82 years old this August. These are factors that nobody could have predicted, and they are going to significantly change if not bury this social insurance program. Are you willing to rely on it?
FALSE BELIEF #5: "Investing is complicated and time consuming"
Investing can be complicated and it can be time consuming if you allow it to be. To quote John Naisbitt; "we are drowning in information but starved for knowledge." Everything is becoming more complex. Most investments have become too convoluted for the average investor to understand.
My number one rule when it comes to investing is never invest in something you do not fully understand. A perfect example of this is the collateralized debt obligation, or the CDO. If you saw the movie "The Big Short," you are familiar with this financial product. If you lived through the 2008 housing market crash, this financial product largely contributed to a crash that resulted in an average 33% loss of household net worth. This is what happens when investments become too complex and the average investors trusts others with their money (FALSE BELIEF #1).
Investing does not need to be complicated. In a time of increasing complexity and confusion, the best thing you can do is revisit the fundamentals of investing. That is why this course is largely based on the teachings of Benjamin Graham and Warren Buffett, the greatest investors of the 20th and 21st century.
As far as the time consuming part goes, I will be teaching you about investing strategies that will accelerate your investing into the fast lane with strategies such as dollar cost averaging and DRIPs that can be completely automated. Every month, you will be contributing to a wealth building machine based on the tried and tested old school investing fundamentals.
Course Outline
This course is going to be a seven week journey which takes you from being a complete beginner to being a stock market expert. There are seventeen sections to this, as well as a bonus section from one of my close friends who has over twenty five years of investing experience. He will be sharing with us his wealth building strategy that allows him to grow his money tax free and expense free year after year.
SECTION 1: Introduction to the Stock Market
We will be discussing what a stock actually is as well as the initial public offering. We cover the major stock exchanges as well as the stock exchanges you should avoid completely. After that, we will be characterizing the bull and the bear market and covering the basic rules of supply and demand and how they are represented in the market. Next, we will be talking about what is actually true about the stock market and what is smoke and mirrors. We will also be covering inflation and other important metrics you should pay attention to as a stock market expert.
SECTION 2: How to Invest in a Stock

This section is made for the first time investors out there. We will be covering the different types of stock brokers out there, the broker I recommend, the difference between full service and online brokers as well as what documentation is required to open a trading account. After that, we move on to the different buy and sell order types you can execute. We will be outlining the difference between a cash and a margin account and explaining fund settlement rules to make sure you don't violate the SEC rules.
SECTION 3: Before you Start Investing
This is going to be one of the most important parts of the stock market investing course. This section is all about analyzing your own finances and ultimately setting yourself up for success. I am going to show you how to create a personal balance sheet as well as share the best advice I have for increasing your positive cash flow. This includes discretionary and non-discretionary expenses, assets versus liabilities, high and low interest debt and my recommendation for those that are currently in debt. We will also be talking about setting up investing goals and the importance of having a well-defined plan.
SECTION 4: Investment Vehicles
This section is all about the different investment vehicles out there. I will be sharing with you what types of companies I invest in as well as the types of investments you should avoid. This includes index funds, blue chip stocks, dividend stocks, bonds, retirement accounts, real estate investment trusts and more.
SECTION 5: Investing Strategies
In this section we will be talking about the investing strategies that people follow. We will be discussing the winning strategies as well as the losing strategies. I will be discussing the active investing strategies that I recommend as well as the passive investing strategies that are great for people looking for a "set it and forget it" investing strategy.
SECTION 6: Compound Interest
As Albert Einstein said, compound interest truly is the 8th wonder of the world. This section is all about the power of compound interest. We will be talking about the basics of this wealth building equation, the rule of 72 as well as the best ways to earn compound interest through investing.
SECTION 7: Technical Stock Analysis
For those looking for a more active investing approach, this section is made for you. I will be teaching you the basics of technical stock analysis and how to use these indicators to identify the best opportunity to buy. We will cover the four stages of a stock, the support and resistance areas, the basics of reading candlestick charts as well as the other technical indicators I follow.
SECTION 8: Fundamental Stock Analysis
This section is great for those looking for a long term investing approach. We will be talking about fundamental stock analysis and what to look for in a long term investment. I will show you ways to find the intrinsic value of a stock, the difference between price and value based on the teachings of Benjamin Graham and the core principles of value investing. Next, we will be covering all of the fundamental metrics you should pay attention to. We will discuss reading a balance sheet as well as analyzing important documents like the income statements and quarterly earnings reports. I will also be discussing other important factors to look for such as the strength of the brand, the barriers to entry and other types of intellectual property that increase the value of a company.
SECTION 9: The Psychology of the Stock Market
I am going to explain to you the psychological reasons why most investors are unsuccessful in the stock market and how your impulse actions lead you to failure. We will be talking about the herd mentality, the tendency to follow the market, loss aversion and more. I will also explain how these types of emotional decisions create bubbles in a market.
SECTION 10: Industry and Sector Analysis
Many people make the mistake of using the words "sector" and "industry" interchangeably. We will be talking about the difference as well as how to identify a breakout sector or industry within the overall market. Then, we will discuss industry correlation and how some industries depend on the growth and expansion of other industries.
SECTION 11: Market Indexes
This section is all about the indexes. We will be taking a look at the most popular indexes investors follow as well as a variety of index funds you can invest in.
SECTION 12: Corporate Action
There are many decisions a company can make that impact the share price of the stock. We will be going over all of these factors including the forward and reverse stock split, insider buying and selling as well as corporate share buyback programs.
SECTION 13: Investment Taxes
One of the most important things to understand as an investor is what you will be paying in taxes. What you earn doesn't matter as much as what you actually keep. We will be going over the taxes associated with different investments as well as ways to minimize taxes and even invest in tax free investment vehicles.
SECTION 14: Diversified Portfolio
This section is all about building your portfolio of investments. We will discuss the losing strategy of putting all your eggs in one basket as well as the best ways to get adequate diversification across different assets.
SECTION 15: On The Hunt
I will be showing you what items I have on my buy checklist when looking for an investment. We will be talking about the importance of creating a watch list, the indicators of a great company to invest in as well as the importance of patience.
SECTION 16: How to Profit in a Bear Market
Most people are afraid of the inevitable bear market. I am going to be discussing investing strategies specifically applicable in a bear market or a market correction. The truth is, bear markets provide once in a lifetime investing opportunities.
SECTION 17: Resources for Investors
In this final section, I will be talking about the resources that I use and recommend for further study.
Here is what my former students have to say about the course: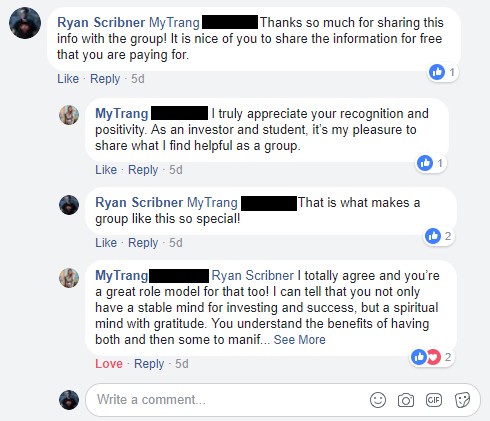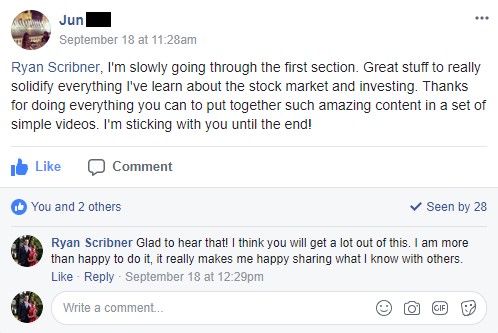 "Ryan has provided very well categorized easy to follow lectures. He has supported them with an active Facebook group. In the group, many ranges of subjects like stock suggestions, investment philosophies, and various books are discussed. Participants are encouraged to ask questions and share their opinions on the subjects to create a productive and intellectual environment. Briefly, I have learnt a lot and am eager to dive into future subjects." - Rafet D

TO ANYONE CURRENTLY SERVING IN THE MILITARY OR VETERANS, PLEASE EMAIL ME AT RYANSCRIBNERMEDIA@GMAIL.COM AS THE COURSE ENROLLMENT FEE WILL BE WAIVED WITH VALID PROOF!

If you have any questions, please email me at ryanscribnermedia@gmail.com and I will respond within 24 hours.